Welcome to the WESTMOUNT SEVENTH-DAY ADVENTIST church.
We are an online  Christian community drawn together by love for Jesus and the desire to attract others to Christ. We aim to present the compassion of Christ through community based activities, preparing all believers for His soon return.

Feel free to join us weekly for Bible study, prayer and worship services.
Take Care and God Bless.
▬▬▬▬​▬▬▬▬​▬▬▬▬​▬▬▬▬​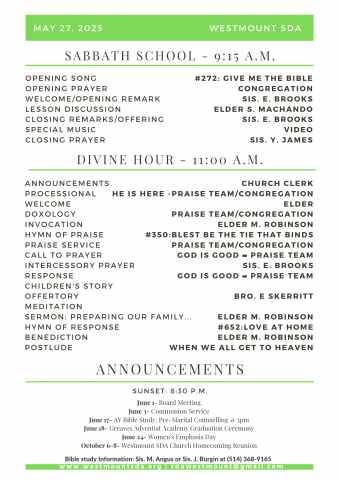 Sabbath Stream Begins @ 9:15 AM   
Tap HERE for Zoom Link
Meeting Code: 891 7877 1168
Passcode: 550176
▬▬▬▬​▬▬▬▬​▬▬▬▬​▬
UPCOMING ANNOUNCEMENTS
■ June 1 ➔ Officers Board Meeting
■ June 3 ➔ Communion Sabbath Service
■ June 17 / 5pm ➔ AY Bible Study: Pre-Marital Counselling
■ June 18 ➔ Greaves Adventist Academy Graduation Ceremony
■ June 24 ➔ Woman of Integrity [Women's Emphasis Day]
■ Oct 6-8 ➔ Westmount SDA Church Homecoming Reunion
▬▬▬▬​▬▬▬▬​▬▬▬▬​▬